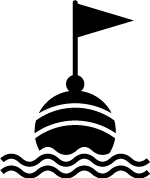 Standard and deluxe buoy lines keep your boat safe while it is on your buoy. One end of the line has a 5/8″ shackle with safety wire that will attach to the ring on the top of your buoy. The other end has 1/2″ stainless steel a locking snap hook that will attach to the bow eye of your boat and keep it safely in place.
Locking snap hooks are designed for the movement your boat will make when it's on the buoy. Crane hooks with spring safety latches are designed for lifting, not for buoy lines. When the spring in the crane hook fails, your boat will come off the buoy. That is not possible with a locking snap hook.
Check with your buoy field to see if there are any restrictions on the total length of boat and buoy line allowed. We recommend 18′.
All buoy line lengths are the same price. Standard $349, Deluxe $499.